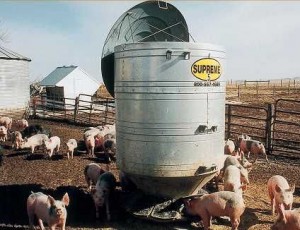 BarnWorld.com has a hog feeder and a hog waterer to suit every size operation and all your hog feeding needs. The indoor hog feeders are made from tough polyethylene – hog lot and confinement pen acids will have no effect on the feeder. The patented feed distribution system and smooth, inside will keep a steady amount of feed flowing freely and can feed high moisture grain without build-up or bridging. With the indoor hog feeder, your animals stay right over the trough to feed which sharply reduces waste. The indoor hog feeder has fence-line adapters so you can feed two pens with a single feeder. Heavy steel dividers bolt to the feeder on one side and your fencing panel on the other. These indoor hog feeders come in nursery, grower and finishing feeder sizes that take hogs up to market weight.
The BarnWorld Big "O" outdoor hog feeders will not rust, rot or corrode. In addition, hog lot and confinement pen acids have no effect on these hog feeders. The polyethylene base will fit most sizes of feeders. The Big "O" hog feeder comes in 40 bushel, 65 bushel and 90 bushel sizes. If you are replacing an older feeder, don't throw it away just because it has a rusted-out bottom. You can bolt the top half of your old feeder to our new Big "O" polyethylene base to save you a lot of money over buying a whole new feeder. The entire outdoor hog feeder assembly comes with a polyethylene base, trough a hopper, poly skids, painted steel supports, side feed adjustment, galvanized sidewalls, 12 feed stations, and a polyethylene cover.
The supreme hog feeder offers a scalloped trough designed to save feed with 12 large openings shaped to fit a hog's jowl anatomy. The large head clearance allows a hog to adopt a comfortable stance and eat inside the feeder. The high trough slope eliminates areas where feed would otherwise pack and spoil and returns any dragged feed back into the feeding zone. This durable hog feeder has the largest feed-saver flange on the market as well as the strongest plastic door on the market. Polyethylene skid runners never rust.
BarnWorld.com sells a wide variety of farm supplies, ranch supplies, and equestrian supplies made by American manufacturers.