'
'


Saddle Pads
5 Star saddle pads are made from 100% wool for excellent fit and performance. A true French Curve backline and withers slope provide optimal comfort for your horse or mule.


Find out more….




Heavy Duty Cattle Guards


Barn World offers several types of cattle guards for private, commercial, public highway and heavy duty offroad equipment use. We comply with city, county, and/or state regulations.


See available Cattle Guards




Horse Hay Feeder


Round Bale Hay Feeder for Horses has no sharp edges minimizing the dangers of cuts or serious injuries. The height of the feeder facilitates feeding and eliminates rubbing off the mane of horses.


Click here to see O'Neill Bale Feeder


Poly Hay Feeder
This popular plastic feeder is designed with all countersunk hardware for horse safety. The 2″ thick walls form a round, 35″ tall, 8`-4″ diameter feeder made with UV resistant material.
Find out more….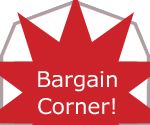 Barn World sells a wide variety of farm supplies, ranch supplies, livestock feeders, grain bins and equestrian supplies made by American manufacturers. Our best selling items are hay feeders, cattle guards, feed bins, saddle pads, mineral feeders, livestock scales and many livestock supplies.
A farm or ranch cannot function successfully without the right farming supplies on hand to ensure smooth operations.  At Barn World, we proudly offer high-quality, American-made farming, ranching, and livestock equipment designed to deliver practical solutions that stand the test of time.  Whether you're looking for feeders and waterers, cattle guards and fencing, greenhouses and barns, or all of the above, we have the functional and durable farm and ranch equipment you need to improve efficiency and optimize operations.
Our commitment to providing quality products and keeping our customers satisfied has earned us a strong reputation as one of the top suppliers of farm, ranch, and livestock equipment.  What benefits will you gain when you partner with Barn World for all of your farm equipment and supply needs?
Quality Livestock & Farm Supplies
At Barn World, we have a vast selection of farm equipment and supplies to ensure that the items you need are on hand and available for purchase.  We understand that time is money, and we not only save you time by providing a wide range of needed inventory, but we also offer the targeted solutions that streamline your operations.  Some of our most popular products include:
Hay Feeders

Feed Bins

Mineral Feeders

Cattle Guards

Livestock Scales

Saddle Pads
The health, wellness, safety, and security of your livestock is a paramount concern, and our quality products are designed to help you achieve your many goals.  We offer both suspended and ground hay feeders for use in pasture or stall and our ranch equipment is designed to reduce waste and increase efficiency during feeding.
Keeping your livestock secure and contained requires not only high quality fencing and gates, but also effective cattle guards that allow easy access for vehicles.  If open lanes of traffic are a must for your busy operation, we have products suitable for private, public, and off-road use.  Our resilient cattle guards meet AASHTO load rating requirements for safety and durability.
Whether you need large or small scales to track the weight of your livestock and grain, we have the practical, heavy-duty, low-profile designs that meet your operational requirements and space restrictions.  We're also pleased to offer a variety of saddle pads, covers, and so much more.  Barn World is the reliable and convenient way to get all of your needed farm supplies in one place.
American-Made Ranch Equipment and Supplies
Ranching and farming operations are tough on equipment, and you need products designed to take the abuse and deliver peak performance.  Barn World delivers the robust and durable equipment and supplies you expect thanks to American-made ingenuity and standards for quality.  You deserve only the best, and farming equipment manufactured in the USA is designed to meet all of your functional needs and built to stand the test of time.
Scalable Solutions
No two farming or ranching operations are exactly alike, and you need customized solutions that perfectly meet your needs.  With a vast assortment of farm, ranch, and livestock supplies, Barn World provides for the needs of properties large and small.  Whether you're at capacity or you're scaling up production and growing your herds, we'll advise you on the farming equipment best suited to your needs, now and in the future.
The Importance of Using the Right Farm Supplies
As with any successful business, value is important, which is why you need to find the best farming supplies to support your operation.  You don't want to waste money on products that aren't well-suited to your needs or that fall apart after minimal usage.
Having the right equipment and supplies on hand could make the difference between opportunities to grow and the threat of total collapse.  At Barn World, we understand the desire to get the greatest possible value for expenditures, which is why we proudly offer a wide range of products designed to suit the needs of every customer.
Our vast selection ensures you have the options you need to keep your operation running smoothly, and even streamline procedures for greater efficiency, performance, and profitability.  The right ranch supplies make a huge difference when it comes to the success of your operation, and we're happy to deliver exactly what you need.
Commitment to Customer Satisfaction
At Barn World, we're experts in the field of farming, ranching, and livestock equipment and supplies.  If you need it, we've got it, and we'll gladly advise you of the products most likely to help you reach your goals and increase successes within your operation.  Our commitment to customer satisfaction and support means you'll always receive the friendly service you expect and the optimal outcomes you deserve.
We are one of the top vendors for farm and ranch supply in the United States and pride ourselves on our strong customer service and expertise. Our products are manufactured here in the USA and are made to the highest quality standards available.
Please check out our extensive selection of online farm and ranch supplies or contact us today.