Barn World is proud to offer a line of portable steel shelters that are designed to be livestock shelters but come in sizes large enough for efficient to be equipment and storage facilities as well.

Whether you need an animal shelter for goats, calves, Ostriches or  Emu's, there's an animal shelter built for you.  All of the huts are constructed from steel and are available with swing in or out bucket holders and bottle holders.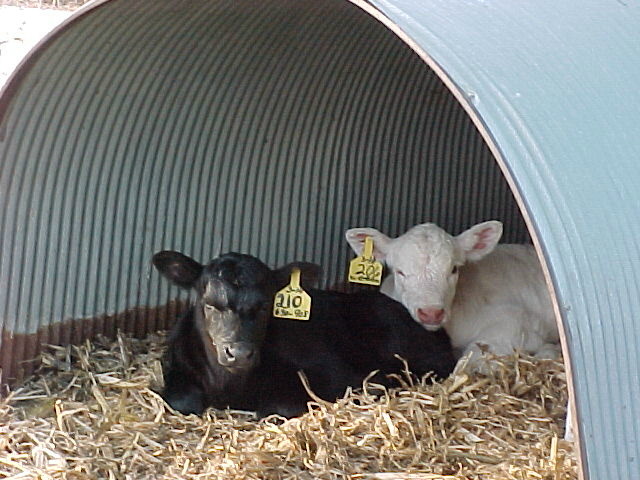 There are also options for the front and back of the shelters.  You may choose from the fronts being partially closed with a solid immovable panel that covers half of the entrance, or get a full closure with the optional swinging door if desired.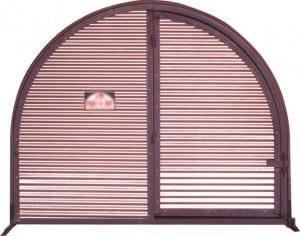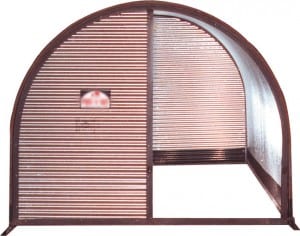 Calf Hut with door (closed)                         Front closure without door
Small Animal Shelter
The small huts measure either 4-1/2' or 7-1/2' long in width. They come pre-assembled and like all the shelters, have the option of the front enclosure without the door or with.  The height is 3'10" and light weight of only 145 lbs, allows for easy mobility and greatly increases the uses for this small building.  They come with anchors, one in the back and two for the front make your portable shelters a permanent solution until you'd like to move them for another use.
Transporting the huts is made more efficient by design.  Up to fifteen of these smaller shelters can be loaded in a pickup when you're ready to move them for another use.   Extremely popular with pig and hog operations, they make great farrowing shelters.
Making them tough is the galvanized, heavy-duty corrugated steel reinforcements and heavy angle irons frames.  These buildings are designed to shine in the worst of Mother Nature as well as your livestock.
Ostrich and Emu Shelter
These huts are great for large birds and come pre-assembled in 7' long sections.  You may choose from 7' as the shortest length and add sections all the way up to your longest use need.  Available in 8', 12' and 14' widths, they offer a wide variety of uses and allow for growing and large herd sizes.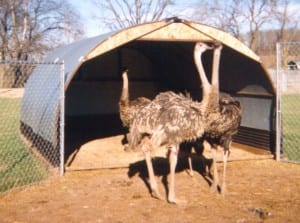 Assembly for these portable and yet permanent buildings takes a quick 2 hours and with the included 4×4 skids, you're never stuck with a shelter in a specific place.  All necessary parts are included for complete assembly.
The larger animal shelters come in widths of 8', 10', 12'  and 14 feet while the lengths are in any increment of 7' and although they are not pre-assembled like the smaller shelters, it will only take two men or women, 2-4 hours to completely build them.  These larger huts come with skids made of 4×4's to make it easy to move them in the pasture or around the farm and ranch.
The 14' wide hut is plenty big enough for a full size pick up.  You can even open the doors to get out when parked inside.  It's extremely useful store equipment out of the snow, sun and rain and can even make a nice workshop.  There are large vents located on the back wall that open up to allow for ventilation and 'airing out' in the summer.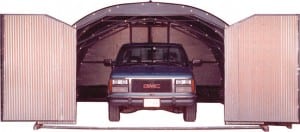 This is a picture of the back of the 14' shelter with the back vents open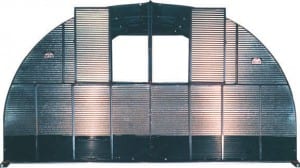 A Shelter or Hut for all types of uses
To offer the portability and versatility inherent in the design of these buildings, it is necessary to anchor them to the ground.  Please note that due to varying soil composition around the country and from county to county, anchors are not included with the larger shelters, but are included with the 6' wide huts.
For questions or information on the animal shelters or for assistance any farm and ranch livestock supplies or even cattle guards, please call (720) 238-2190 or visit BarnWorld.com today!