Radiant Floor Heating from Barn World with the Crete-Heat Floor Panel System
We have easy use and install Electric Boilers for Radiant Floor Heating designed to be used with your choice of PEX Tubing and the Crete Heat Insulated Floor Panels. This system is designed specifically for installation in poured concrete basement and garage slabs that are well insulated below and around the outside edge of the slab. Use these hydronic heating kits to heat up to 900 or 1000-1800 square feet of single zone basement, garage, green house or home addition. Radiant-Made-Simple Radiant Heat Systems provide an energy efficient (approaching 99%) solution for concrete floor heating.
CHOOSE YOUR RMS MODEL ACCORDING TO THE SPACE YOU WISH TO HEAT IN YOUR BASEMENT OR GARAGE, AND YOUR ELECTRICAL REQUIREMENTS
| | | | |
| --- | --- | --- | --- |
| Square Feet | RMS Model | Loops | BTU/h |
| 350 to 600 | RMS-7 | 2 | 23890 |
| 610 to 900 | RMS-7 | 2 | 23890 |
| 910 to 1200 | RMS-11 | 3 | 37540 |
| 1210 to 1500 | RMS-11 | 4 | 37540 |
| 1510 to 1800 | RMS-11 | 5 | 37540 |
ELECTRIC SERVICE REQUIREMENTS

MODEL

AC VOLTAGE

HEATER AMPS

BREAKER

RMS-7

220/240

29

40 AMPS

RMS-11

220/240

46

60 AMPS
HAVE AN AREA LARGER THAN 1,800 SQUARE FEET?
Areas larger than 1800 square feet should be subdivided and served with two or more RMS units sized for each area.
EXAMPLE #1: A 2500 square foot basement could be treated as two, 1,250 square foot areas each served by one RMS-11 boiler having 4 loops each.
EXAMPLE #2: Two temperature zones are desired in the 2,500 square foot basement, one 760 square foot zone could be served by one RMS-7 boiler with 2 – 300 foot loops and the remaining 1,760 square foot area served by one RMS-11 heater with 5 – 300 foot loops. (Thermal isolation is required)
THE BASICS OF RADIANT FLOOR HEAT
PEX Oxygen barrier tubing installs with Radiant Heat system on 2" insulation foam board. This Radiant Made Simple Radiant Floor Tubing Kit works with Radiant Made simple Radiant Heat systems. Requires .92 gallons of RV antifreeze per 100 feet of tubing. 300′ X 1/2″ PEX Oxygen barrier tubing installs with Radiant Heat system on insulating foam board. Tube bends help make transition for tubing in concrete to the manifolds. Allow 1 linear foot of tubing for 1 square foot of space to be heated. Order 1 each 300' Loop Kit per 300 square feet of space to be heated.
Insulation Benefits
Cuts radiant system install time by as much as 2/3
Designed to hold tube securely in place with wider fasteners
2 sizes available for both new construction and retrofitting existing buildings
UV Protected Packaging for outdoor storage
Ready For Concrete
The Crete-Heat Insulated Floor Panel System, is an easily assembled modular board insulation, vapor barrier and radiant tube holding grid that allows for easy installation of hydronic radiant floor heating systems in basements, garages, main floor slab on grade and above grade installations where concrete or Gyp-Crete is normally used. For basements, a 'light weight' concrete (sand instead of pea gravel) maybe used in 1-1/2″ thickness. Uses 1/2″ tubing. Total thickness is 1-7/8″. This Product is sold by the bag, each containing 12 panels and covering 96 square feet. To determine your total square footage, divide your total square footage by 96 for the number of bags needed.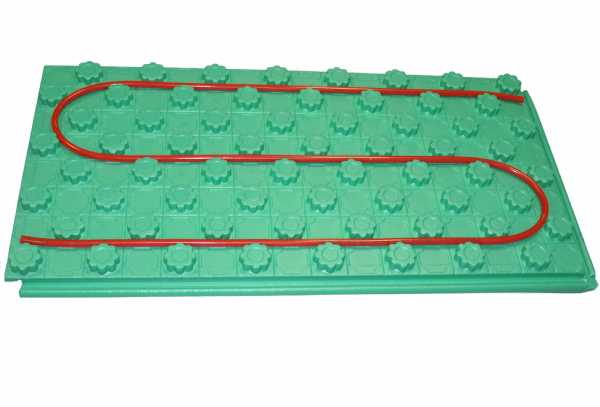 These panels provide 2″ of insulation while the PEX knobs add approximately 7/8″ more for an overall height of 2-7/8″.
Crete Heat Specifications
2″ of insulating thickness
vapor barrier on each panel
overall thickness is 2-7/8″
Ships in UV and weather-proof packaging – see below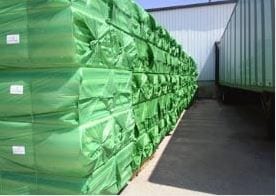 Ready For Concrete
Theses panels are easily assembled and have overlapping lips for securing to each other and holding while concrete is poured. It simplifies the the installation of PEX tubing and also secures it from moving during the pour. Each panel is made with a vapor barrier and is great for heating systems in basements, garages, main floor slab on grade and above grade installations where concrete or gypcrete is normally used.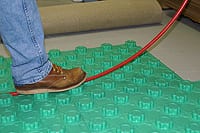 Each panel board size is 25″ x 49″ with an effective insulating area of 24″ x 48″. Each interlocking panel covers up to 8 square feet with knobs to accommodate 3/8″ up to 1″ sized PEX. A 10-mil polystyrene film provides the vapor barrier.
Electric Boilers for Heating the Floor
The electric boilers are specifically designed for use with radiant heating systems and provide energy efficient heat in a do-it-yourself package. You can heat single or multiple zones and typical uses are in basements, garages and anywhere a new slab is being poured.
They have multiple manifolds for controlling individual zones are a simple and efficient means of providing warmth throughout the slab.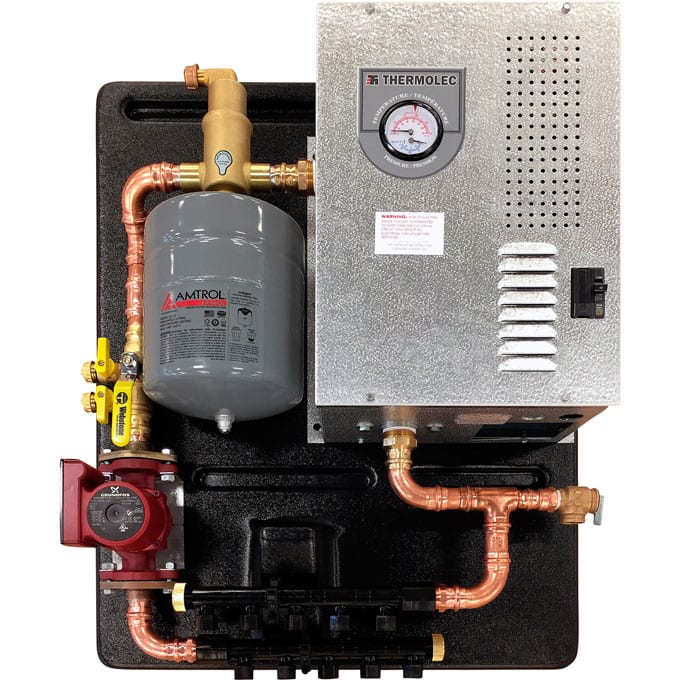 Let us know if we can help with your next Radiant Floor heating project!