Cattle Guard Foundations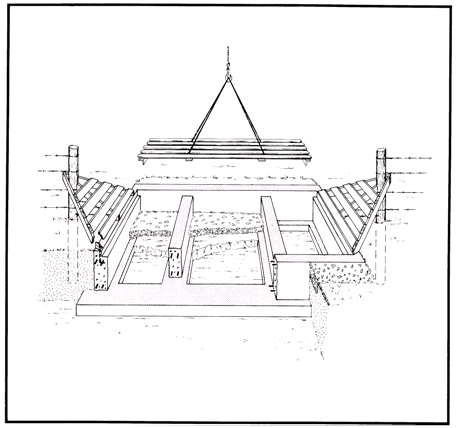 To install a standard flat cattle guard in the ground, you must first excavate a one foot deep trench and pour a concrete foundation.  Many installers dig out further and fill with gravel to provide better drainage.  The foundation should consist of a concrete vault with 6 inch walls to keep the earth from caving in underneath the cattle guard and a 12 inch x 18 inch concrete footer under each beam of the cattle guard.
Cattle guard footings and foundations are usually poured on site.  Concrete foundations are not shipped and delivered with the cattle guard as shipping would be prohibitively expensive.  Pouring the concrete on site also helps achieve the best possible drainage plan.  An example of a cattle guard footing and foundation plan is available at Barn World Farm and Ranch Superstore.
Boxed cattle guards are set right on top of the ground. Soil is backfilled up to the guard like a ramp on each side.  The box keeps the soil from getting under the guard.  Boxed cattle guards are usually used for temporary installations of less than two months including roundup, oil well drilling and construction sites.  For permanent installation, use a concrete foundation.
They may be called cattle guards, livestock guards, game guards or animal guards.