Radiant heat is one of the most economical means of heating a home or workplace. Floor Insulation is critical for keeping that heat from being absorbed into the ground. These radiant floor insulation panels direct it into the slab where it's needed and prevent heat loss below.
The panels can hold various sizes of Pex Tubing at a uniform distance for even heat distribution even while pouring cement on top. The raised knobs protect the tube during installation and make planning and layout easy.
Installation of the panels is straight forward and we've included an overview and some guidelines below.
Crete Heat Panel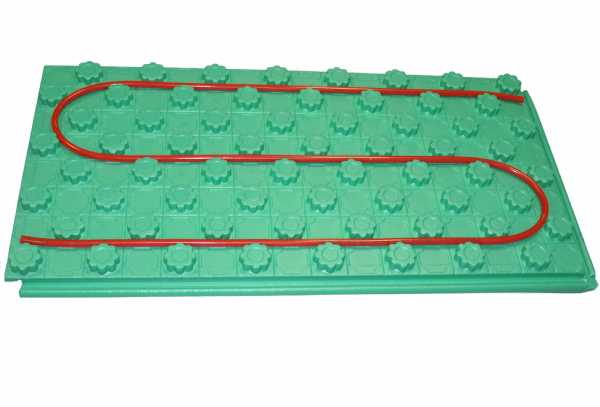 Floor Insulation Installation
The first step during installation is planning the layout of the panels. They're rectangular and measure 23″ x 49″ with an effective insulation area of 23″ x 48″.  The edges overlap to keep the forms from moving when walking on or pouring the cement.
Floor Panel Layout
The panels are easily cut for rectangular or square rooms and even in irregular rooms, they're easy to fit. The boards are mostly Styrofoam with a vapor barrier on the bottom that's easy to work with. Below is a picture of a room with the floor insulation laid out and the Pex Tubing run where the heat is to be radiated.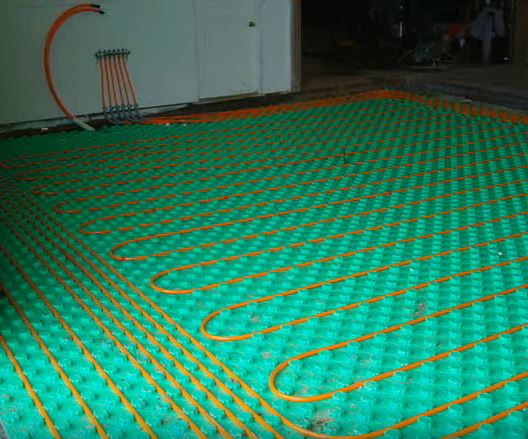 Installing the Pex Tubing
Create a floor plan of where the radiant heat should be introduced to the slab and place the pex. Most installations call for an even distribution of the heat, but a contractor should be consulted if more is desired in a certain area over another. The tubing can easily be set closer together in that area to provide more heat if needed.
Each panel has knobs that hold the tubing securely in place during construction. It will protect it from wheel barrows and work boots and provide a uniform distance between runs. The knobs are designed to accommodate most tubing sizes from diameters of 3/8″ up to 3/4″. Consult your heating boiler for the best match of tube size.
Installing the Pex Tubing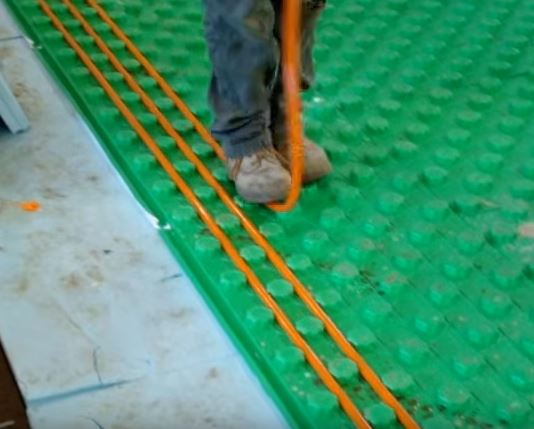 Cement INSTALLATION
Once the floor insulation panels are in place and the pex is installed, you're ready to plan for covering it with cement. This process should be done by a qualified contractor familiar with this type of installation. A recommended minimum of 1.5″ of coverage is required through the floor. It can go pretty quickly and once you start, you'll need to finish!
Below are pictures of the cement being floated on top of the panels. It can be a labor intensive process and require immediate and constant attention.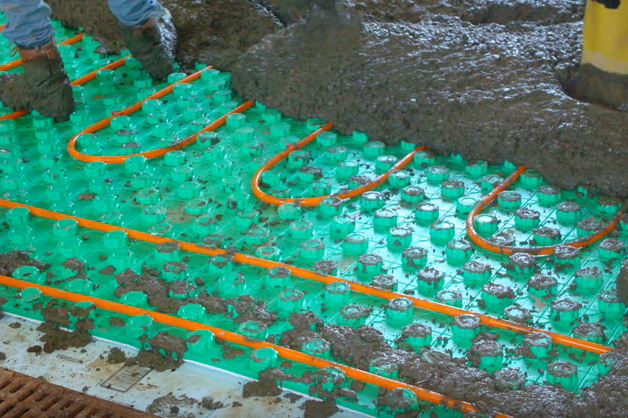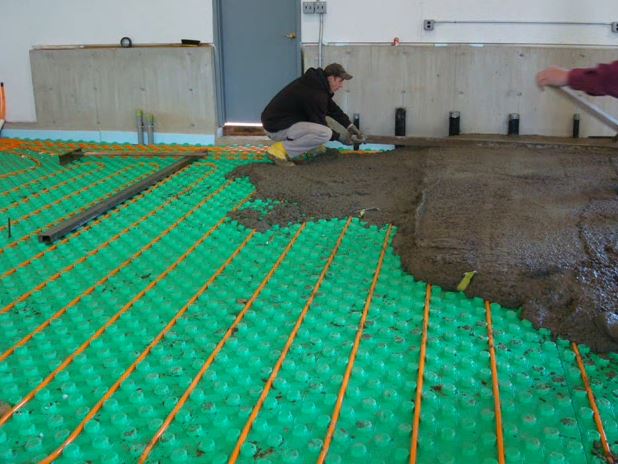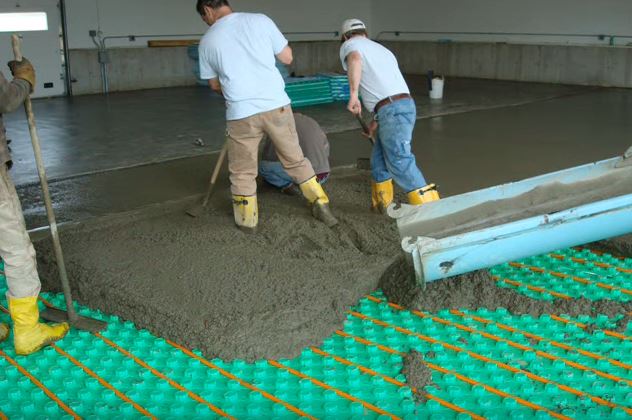 Once the floor has cured, the majority of the work is done. You'll be able to test your radiant heat boiler and make any flow adjustments deemed necessary.
Benefits of Radiant Heat Floor Insulation Panels
The quiet and efficiency of radiant heat is undisputed. The uniform heat throughout the floor will provide comfort and utility savings for years to come. The panels themselves have a 10-mil vapor barrier polystyrene film to prevent moisture transfer and their real value is their insulating properties. See the chart below for details
Floor Insulation Ratings
The panels are available in three different R-values. Not all installations require the very thick 3″ panel insulating properties so other alternatives are offered.
R-6     – 1″ floor panel – overall 1 – 7/16″
R-10   – 2″ floor panel – overall 2 –  7/8″
R-15   – 3″ floor panel – overall 3 –  7/8″
Choose the panel that's right for you climate and heating needs.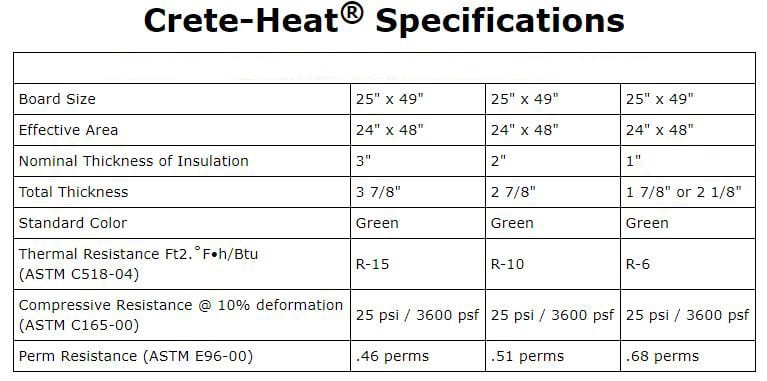 Shipping
The floor insulation is very lightweight and are able to be shipped all over the United States. They're packaged on pallets and in UV protective bags as shown below. Each individual bag is fairly light and a lift-gate service is available to lower them to the ground upon arrival if necessary.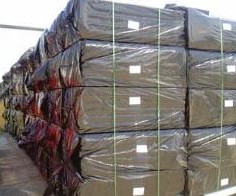 If you'd like a quote with shipping right to your door, please let us know and we'll be happy to help. Email for a quote at Sales@BarnWorld.com or call anytime:  (720) 238-2190