Cattle Guards – an effective invisible livestock gate!
A properly installed cattle guard is an effective and popular livestock control devise that saves valuable time and effort.  Available with the highly effective round top-pipe for the maximum hoofed animal deterrent and the flat top-pipe which provides a smoother ride for your vehicles while creating a barrier for livestock, it is easy to establish a safe perimeter to your pastures while granting the best ease of access possible.  It won't matter who's crossing your land, they will never leave a gate open and cattle won't be wandering off on their own.  Keep your livestock safely contained with a simple and very effective cattle guard.
Types of cattle guards
There are many different types available, but the most common and effective are the flat and boxed options.
Thes are the traditional design style in use all over the country.  Typically they're made by welding round pipe to the top of heavy duty c-channels or I-beams.  The design calls for them to be mounted over a vaulted or open area with concrete footings to hold back the dirt and provide a foundation to transfer the weight of crossing vehicles to the ground.  The vault area underneath the rails creates a void and the important visual perception of depth needed to deter an animal attempting to cross.  Proper installation of the foundation is critical and a contractor familiar with the local soil conditions, including soil freezing levels and drainage issues should be consulted to ensure a long lasting crossing.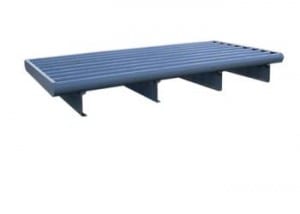 Boxed cattle guards
are identical to flat cattle guards but are designed to lay directly on the ground. They have a steel skirt welded around the perimeter to keep dirt from creeping in underneath and are very popular in low traffic, low-speed areas. These include construction sites where cleaning dirt from equipment is necessary before entering public roadways.  They are very popular as washout sites, used when hosing off trailers and other vehicles and allow for the water and dirt to drain away, and also as rumble strips that shake the dirt off before leaving a site.  These 'semi-portable' guards can be relocated from site to site as needed.
Boxed cattle guards are also popular for residential use and other low traffic areas such as cellular antenna towers, oil rigs, and any unattended maintenance area that require roaming livestock be kept at bay.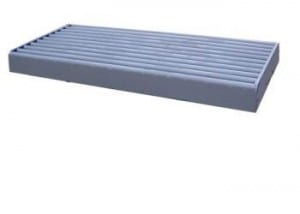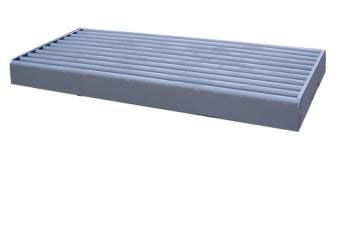 Cattle guard load ratings
The AASHTO (American Association of State Highway and Transportation Officials) provide axle load ratings for cattle guards to be used in public installations.  Rated cattle guards are certified to meet the requirements of state and federal entities such as the Department of Transportation.
AASHTO Design Specifications
H-15 (12 tons per axle)
H-20 (16 tons per axle)
U-54 (25 tons per axle)
U-80 (30 tons per axle)
Private use cattle guards When used on private property, certified load rating certificates are not required. This fact alone can save hundreds of dollars on a single cattle guard even though they're built to the same specifications.  Private use guards will handle fully-loaded semi truck trailers as well as farm and ranch equipment.  Very popular on private driveways, these cattle guards can be more economical.
If you need any help with your cattle guard project, would like a quote with shipping or have any questions at all about cattle guards, please contact BarnWorld.com.  They have all the livestock supplies you need for your farm and ranch!