Barn World offers a wide selection of livestock scales for all your animals.
Large Animal Platform Scale
Our most popular is a very versatile 4H livestock scale that can weigh pigs, sheep, goats and calves up to 1,000 pounds. It has a 55.5 "x 20.1" wide, mild steel platform with ramps on each end. The pre-calibrated stainless steel digital indicator includes a 6V DC rechargeable battery and an AC adapter. An optional indicator stand is available if desired.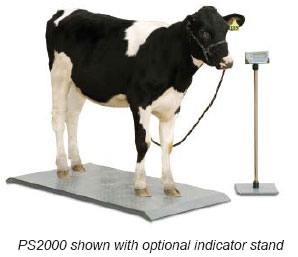 Features:
Capacity is 1,000 pounds
It provides consistent accuracy to within 0.1% and the digital indicator is fast and easy to read.
It's economical to own as there are no installation costs and no moving parts that require maintenance or adjustment.
The 2.5″ low profile platform makes it easy for animals to enter and exit.
It's very versatile and can handle a multitude of weighing jobs:  livestock, pets, feed carts, bulk containers and almost anything you can put on it.

Portable

 The scale weights only 60 pounds and has two easily accessible carrying handles. There's not need for a recessed floor or ramps!
Construction
– Rugged steel with tread plate surface protects animals and handlers from accidental slips and falls. Adjustable foot pads allow scale to work effectively on uneven floors.
Overload Capacity
– Capable of withstanding 150% capacity of weight without damaging the scale
Easy Assembly
– No installation costs or parts that require maintenance. Just place the scale on a hard surface and level by adjusting the foot pads. Connect the indicator and turn on the power.
Call (720) 238-2190 or visit BarnWorld.com today!