Pipe Fence has been used to dress up horse pastures and ranches for years. It's heavy enough for work facilities and attractive enough as a decorative fence. You'll be pleased with the durability, strength, quality and elegance of our Gold Quality Continuous Fencing. Whether you use it for a pasture fence, livestock fence or a horse fence, it'll dress up your property immediately and for years to come.
Pipe fence pasture corner

Description
The Hi-Qual continuous fence is available in 10 and 20 foot lengths with options of 1-1/2″ or 2″ pipe and 4, 5 or 6 rail configurations. The strong and fantastic looking fences have welded, notched vertical supports and are easily installed on wood or metal posts.  They give the desired appearance of a clean, continuous fence line.
Corners are made with either 45° or 90° elbows to allow it to be used in almost any application.
Built with notched and welded connections and coupled with a powder coated finish, these durable steel fences will provide years of solid use and good looks.
Construction
These strong and glamorous continuous fence panels are made from 16 gauge, 50,000 psi premium steel tubing.They are available in five or six rail configurations and in inch and 1/2 or 2 inch outside diameters.
The panels are built in lengths of 10′ or 20′ and each panel has notched and welded uprights for extreme strength and stability. The end of one panel has a smaller diameter to slide directly into the next panel for a seamless look. Even the corners are interconnecting with 45° or 90° corner members. Below is an installed 45° corner:
They are powder coated for extra durability and longevity in a variety of colors upon request.
New steel tubing is 16 gauge, 50,000 psi
Configurations include 5 or 6 rails and 1 1/2″ or 2″ diameters
Available lengths are 10′ or 20′ long
Slide in connections for a seamless finish
All uprights are notched and then welded for exceptional strength
Seamless corner members are available in 45° or 90° configurations
Powder Coated for extra protection and longevity
Available in numerous colors to complement your existing look
Picture of the continuous fence panels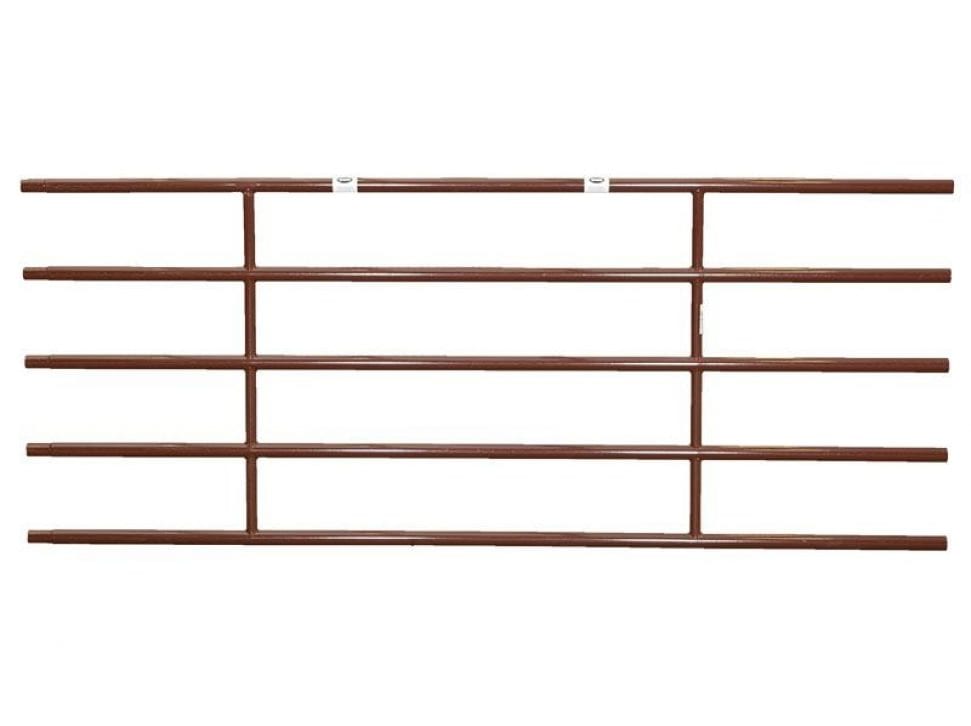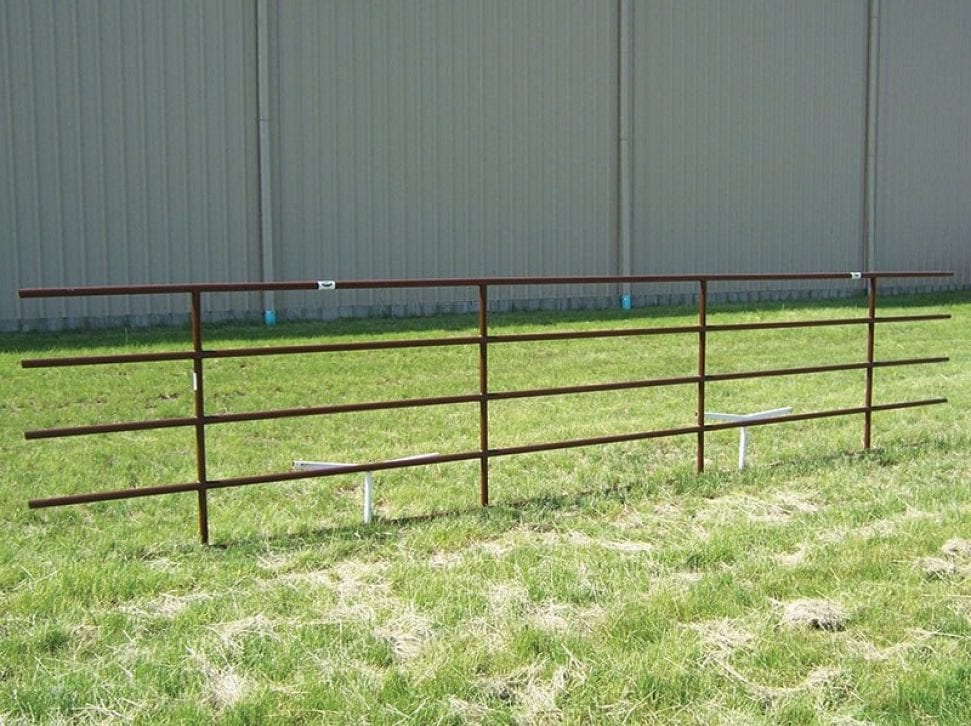 Pipe Fence Video Review
Below is a great video overview that illustrates the features and construction of the pipe fence. These high-quality panels are easy to install and over-built to last for years in your most active pastures.

The product we want to discuss today is Hi-Qual continuous fence.
This is an example of the two inch, five rail configuration. It's available also in two inch, six rail as well as in the five rail, 1-1/2″. All three configurations are constructed out of 16 gauge, 1017 high-tensile, high-carbon steel.
You'll notice that in the continuous fencing, we've incorporated the same notched vertical supports that you saw the livestock gate and panel line. The panels come in 10 foot and 20 foot lengths and one end is "swedged" or male. This is built so it slides into the next piece and as you install it on wood or metal post, gives the appearance of being one continuous panel.
Some of the accessories that you would incorporate into your design: clips, elbows and posts.
Obviously, we need the clips to hold the panels to the posts. The 45° and 90° elbows create the continuous finished look.
You can see there are many applications for Hi-Qual continuous fence. They're commonly used a perimeter fence, a pasture fence, corrals and even non-agricultural uses such as in oilfields.
With these continuous fence panels, you can achieve the longevity of a heavy-duty metal panel. They last longer and are more durable than any wooden or vinyl fence that you would put up.
Visit BarnWorld.com and if you'd like a quote with shipping or have any questions, feel free to contact us at Sales@BarnWorld.com or call (720) 238-2190 today!