Barn World offers a complete line of cattle guards engineered for public roadway projects. The HS20-rating is the required DOT heavy-duty load capacity of 16 tons per axle.
These guards are made in either round or 'flat' steel top rails and are available in a variety of sizes. Create wider crossings by bolting them end-to-end to create a barrier of any length. The longest single section available is a round top rail guard at 20 feet and you may connect them together in even lengths of 8′ to 20′ to cover the roadway you need.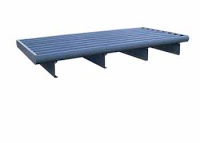 The HS20 Rating
This designation is called out for by the AASHTO (The American Association of State Highway Transportation Officials). and is 16 tons per axle. It's required for public highway construction and is calculated using specific axle configurations. Our rated cattle guards are certified for public works and roadway projects.
Rating Designations
H-15 (12 tons per axle)
H-20 (16 tons per axle)
U-54 (25 tons per axle)
U-80 (30 tons per axle)
You can feel confident that you are getting the best quality cattle guard for your project. Click the follow link here for our complete Cattle Guard Selection.
Call Barn World with your questions or to request a quote and we'll be happy to help!
Barn World (click here) | (720) 238-2190 | Sales@BarnWorld.com