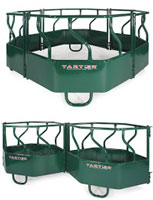 Feeding with a traditional livestock bale feeder doesn't present much of a challenge out in the middle of your pasture. You'll typically take the tractor, drop the hay inside and call it an afternoon, after all this is how it has been done for years. Like all livestock equipment suppliers, we carry a large inventory of the traditional hay feeders, but we came across this new design from Tarter and think it's worth a look!
Trouble with Traditional Hay Feeders
The problem with a large fixed ring hay feeder is that once your livestock eat the outer layers of the bale, the bale shrinks in size to the point where they can't reach it anymore. The hay is just out of reach and all it does is entice them to lean against the feeder. This of course leads to metal bending and even cattle climbing inside the feeder to finish off the bale in the center. This can lead to injury and the exciting struggle of trying to help them out!
The 'Flex Feeders' are uniquely designed to shrink in size as the bale get smaller and allow your animals to eat the bale entirely. Each of the panels of these feeder are hinged like a door so that when leaned upon, instead of bending, they will actually slide inward around the remaining bale to provide consistent access until it is gone.
Cattle and Horse Hay Feeder Designs
The cattle feeder is made with a top bar all the way around the vertical bars while the horse design is open at the top. See the pictures and videos below for each style and consider this feeder the next time you're looking for a new bale feeder. This unique design is worth exploring!
As always, if we can help with anything at all, call us at (720) 238-2190, email Sales@BarnWorld.com or visit our website at BarnWorld.com today!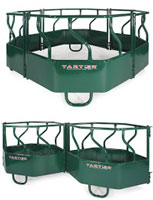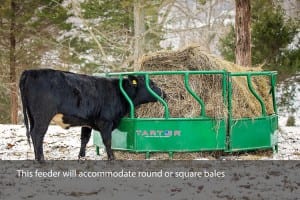 Flexible Cattle Hay Feeder Video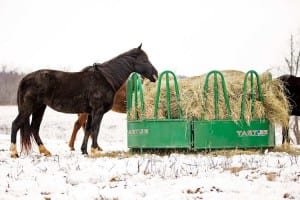 Flexible Horse Hay Feeder Video