It's officially spring and that means calving season and it's time to make sure you have the livestock supplies and calf warmers needed to protect your newborn calves from ol' mother nature.  Make sure you're ready to provide the excellent care required after birth when your new livestock enter the great big world.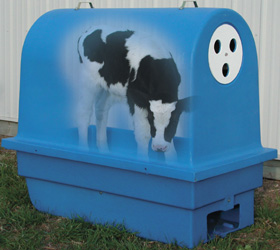 The best protection for newborns is offered by a polyurethane calf warmer with an enclosed heater that will create a comfortable enclosure to protect and give privacy to newborns. Constructed from medium density polyethylene, these durable warmers come complete with a heater to keep your calves cozy, dry and comfortable during the first critical hours after birth.
The interior provides enough room to feel secure, stand up and dry off while getting used to their new environment.  With a hinged top section that is removable for easy entry and cleaning, this warmer provides the ultimate in accessibility. The slotted floor is raised so heat easily circulates throughout the entire unit before exiting the vent in the top of the lid.  The top section vent also serves as an easy way to view the calf without having to open the lid.   The floor is very sturdy and is designed to handle the weight with stainless steel supports.
The exterior bottom is ribbed so it may be moved or dragged around the pasture with ease and the rounded front bottom end allows it to slide over obstacles on the ground. There is also an optional steel hitch that can be used for towing with the vehicle if needed.
Calf Warmer Heater
The warmer comes complete with a high performance 110 V heater, three heat settings and two settings for the fan for an accurate temperature control in almost any environment.
It's large size of 45 inches tall, 24 inches wide and 50 inches long allow for plenty of room and movement in a secure environment.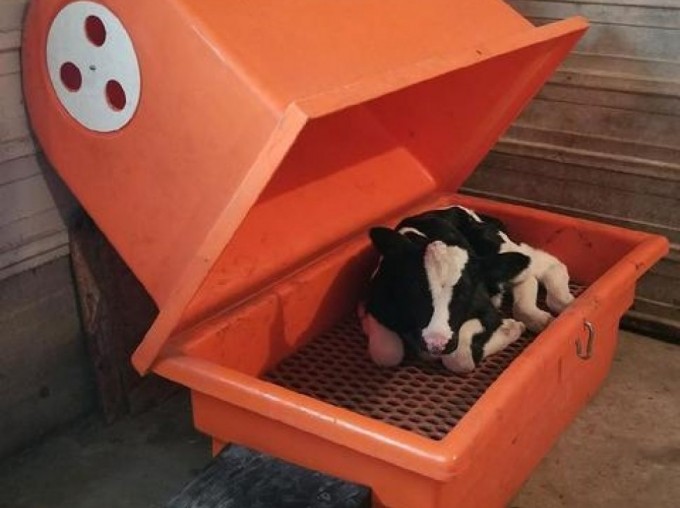 Make sure your calf has the best available environment provided to it so it may have a quick and healthy recovery from birth.  These warmers are essential to giving your animals the best chance of a healthy beginning and prevent it from experiencing the shock of leaving the warmth of the mother to the cold and sometimes frozen ground.
Contact BarnWorld.com today and we'll be happy to help with all your livestock needs – from cattle guards to saddle pads, Barn World has the equipment for your farm and ranch.