A quality cattle chute scale is a must for getting easy and accurate livestock weights while they're already in the chute.
These high quality weigh bars are made from carbon steel and finished with a high grade epoxy paint. The digital indicator is built for heavy-duty use outdoors and is made from stainless steel.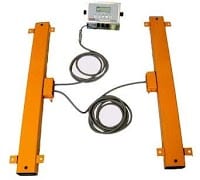 Chute Scale Specifications
Weight sensors: Two loaded cells per weight bar (each load cell 50 ohm)
Load Feet: 2 per bar, 3″ high capacity
Overload protection: 200%
End loading: 100%
Operating Temperature: 14 to 104 degrees F (-10 to 40 degrees C)
Interface Cable: 25 foot cable included
Two load cell summing boxes
Dimensions
The low profile and and mounting tabs make this scale easy to mount to almost any chute. You may also mount the bars directly to any flat surface to make a versatile all around platform scale.
Optional Platform
Barn World carries the weigh bar with your choice of 33″ or 40″ lengths and there is an optional scale platform. It's all aluminum construction with structural bracing underneath. It is built for the bars and include matching mounting brackets for a quick connection.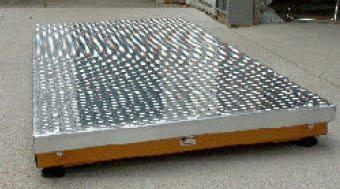 This weigh bar system comes complete and ready to go right out of the box!
Call Barn World at (720) 238-2190 or visit www.BarnWorld.com today for the best chute scale weigh bars in durability and performance.
Sales@BarnWorld.com