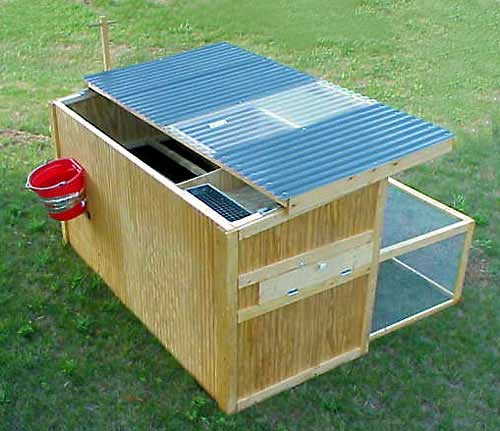 Happy hens make good eggs.
The Henspa is easy to assemble. You will need about 2 hours to put it together. The sliding roof allows easy access to hens upstairs and baby chicks when the Henspa is used as a brooder.
The Henspa includes a heated water bucket with nipple waterers just like the ones used in the commercial hen houses.
The galvanized steel feeder holds more than 50 lbs of feed.
There are three nests in the Henspa. Each nest has an inclined floor so the eggs will roll out into the egg collection area accessible from an outside door.
A clear Plexiglass roof panel allows the sunlight in earlier in the morning, encouraging the hens to wake up and start laying!
The plastic mesh floor upstairs should be covered with the custom-made Henspa tarp during cold weather.
In the summer, it is not needed and the chicken droppings will go directly to the ground.
Move the Henspa every day and most of the mess is on the grass, fertilizing it.
The wheels are attached to a compound-lever double pulley system that requires a mere 15 pounds of effort to lift the 300-pound Henspa onto its 16" flat-free wheelbarrow wheels.
Simply pull back on the handle and the Henspa goes up in the air and balances on the 2 wheels that are inside.
Using an optional height adjustment, the Henspa can sit up to 6 inches off the ground.
Pull the Henspa to the next patch of fresh grass, and then release the handle from the stop that holds it, lowering it to the ground.
Your hens will enjoy the 36" x 85" sunroom included.
The over all dimensions are 10'3" L X 4'1" W X 4'5" H and will hold 10 regular chickens or up to 15 bantams.
Not recommended for areas that get extremely warm such as Southern Texas or New Mexico.
PLEASE ALLOW 3 TO 4 WEEKS FOR DELIVERY.