this product does not ship free
The liner is made of 36 mil plastic polyethalene. To install the liner a "trim lock edge needs to be installed first, then the liner needs to be lapped over that edge and then the clamps hammered onto the edge. The clamps are curved edge sections approx 115" long.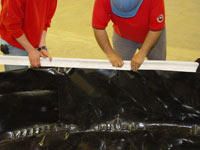 Still have questions about this product?